You know what brings us together more than anything else? Food. But the funny thing is the food itself doesn't even matter. Despite our personal preferences, our mere love of food unites us. We talk about it. We photograph it. We savour it. We gather for it. Food simply matters. That's the premise behind the Food Lovers Unite campaign from the Atlantic Superstore: love it or hate it, we are all food lovers. I've long been a fan of my local Atlantic Superstore for all my shopping needs and their commitment to source as much fresh food locally simply confirms what I already know. So I couldn't be more thrilled to be joining some of the country's best to explore just how much food unites us.
This month armed with a box full of groceries, I was tasked with creating a recipe to showcase my love of a secret ingredient. Fun right? Why hello there parsley! That's an easy one. We eat so much Middle Eastern that parsley always has a place in the fridge. Tender falafel, creamy hummus, pungent garlic sauce, roasted cauliflower with turmeric and cumin seeds, chickpeas in pretty much everything, lemony tahini dressing, and of course crisp salads full of local tomatoes, cucumber, onions, sumac, and as much parsley as I can get. Most of the time all these elements make their way into a bowl. It's not that we are particularly trendy but rather that we appreciate how customizable bowls are for adults and kids alike. While the three year old isn't quite into salad, he'll eat it disassembled. He also loves dipping. So while I may drizzle tahini dressing all over my bowl of herby falafel, fattoush salad, and cumin roasted sweet potatoes, he can have his in parts, dipping his vegetables as much as he likes. But parsley? Well, it's not quite his taste. Yet.
This tabbouleh (or tabouli) recipe was born out of that same meal philosophy. All of the parts of tabbouleh are here - parsley, bulgur, tomatoes, cucumber, onion, and lemon - but the ingredients are left separate, save for the parsley and onions. Made into a sort of salad, the onions are tamed by a little soak in red wine vinegar, sugar and salt. Once the parsley, lemon and olive oil are mixed in, it creates a fresh and tangy condiment to bring the whole bowl together.
Simply cook up your bulgur and quinoa blend (or grain of choice) and layer on some fresh local vegetables like cucumber, tomatoes, and radish. With the addition of quick pickled local beets and roasted chickpeas, suddenly that salad becomes a plant-based meal rich in flavour and texture. But why stop there. I could literally list a ton of other ingredients that would be right at home in this bowl: a dollop of hummus, thick yogurt or tzatziki, sliced avocado, roasted cauliflower and/or sweet potatoes, pomegranate seeds, chopped pistachios, feta cheese, tahini dressing, mint and/or cilantro, a generous sprinkle of za'atar or sumac, a hit of spicy harissa, grilled meat, and most definitely some pita or naan. You get the picture. Whatever your taste, you get exactly what you want. Heck, even if you're not a fan of parsley like said toddler, there's still an entire dish to enjoy. What's not to love about that?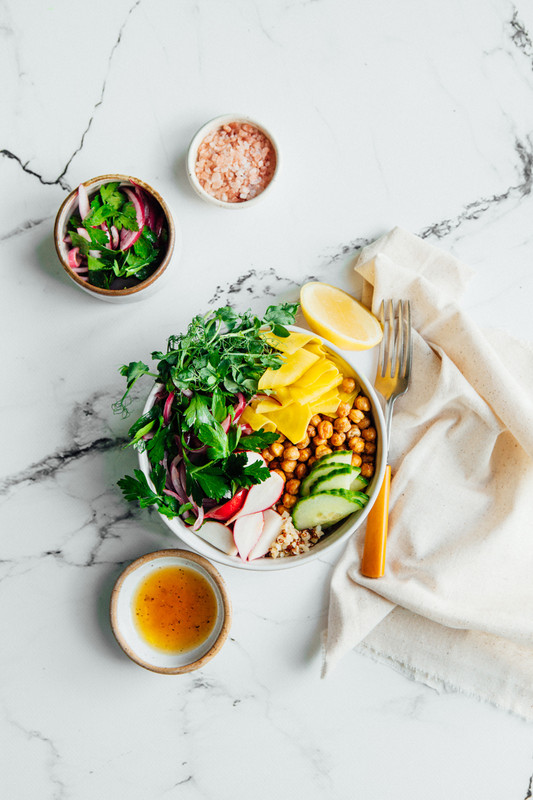 Bulgur and Quinoa Tabbouleh Bowl with Roasted Chickpeas and Pickled Beets
prep time: 15 M
cook time: 1 hour
total time: 1 H & 15 M
All the elements of tabbouleh salad - parsley, bulgur, onions, tomato, cucumber and lemon - in one customizable bowl. Add pickled beets and crispy roasted chickpeas for a complete plant-based meal.
ingredients:
1 19oz. can chickpeas, drained, rinsed and dried well
1 tablespoon canola oil
1 teaspoon cumin
1 teaspoon salt
1/2 teaspoon garlic powder
1/2 teaspoon ground coriander
2 beets, peeled and thinly sliced
1/2 cup white vinegar
1/2 cup sugar
1/4 cup water
1/2 teaspoon salt
1 red onion, thinly sliced
3 tablespoon red wine vinegar
4 teaspoon sugar
1/2 teaspoon salt
1 bunch flat leaf parsley
1 tablespoon lemon juice
1/4 cup olive oil
salt and pepper, to taste
2 cups bulgur and quinoa blend, cooked
1 cup halved cherry tomatoes
½ small English cucumber, sliced
2 radishes, sliced
Sliced lemon, to serve
instructions:
How to cook Bulgur and Quinoa Tabbouleh Bowl with Roasted Chickpeas and Pickled Beets
Instructions:
For the Roasted Chickpeas - Preheat the oven to 400ºF. Toss together the chickpeas, canola oil, cumin, salt, garlic powder, and ground coriander. Bake 30-40 minutes until crisp, stirring halfway through. Turn off the oven and allow the chickpeas to cool in the oven.
For the Pickled Beets - Bring the white vinegar, water, sugar and salt to a boil. Add the beets to a large jar or bowl. Pour the hot liquid over the beets and allow to cool. Keep refrigerated.
For the Parsley Salad - Combine the red onion, red wine vinegar, sugar and salt. Allow to sit at least 10 minutes but more is preferable. Stir in the parsley, lemon and olive oil. Season to taste with additional salt and pepper.
For Assembly - Top the cooked bulgur and quinoa with chopped vegetables, roasted chickpeas, pickled beets, a lemon wedge, and the parsley and onion salad, using as much dressing as you desire.
NOTES:
While tabbouleh is traditionally made with curly parsley, I'm a big fan of flat leaf. Use what you love.
bulgur, quinoa, tabbouleh. tabbouleh bowl, tabbouleh bowl recipe, roasted chickpeas, quick pickled beets
Lunch, Side
Disclaimer: I am part of the #foodloversunite campaign sponsored by Atlantic Superstore. I have been compensated but all opinions and content are my own. I only work with brands I truly love.